About Ojai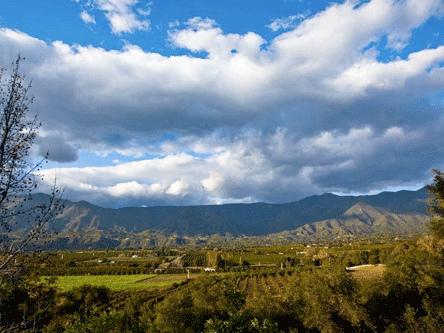 Ojai is a beautiful valley located ninety minutes from Los Angeles and twenty minutes from the Pacific Ocean. About ten miles long and three miles wide it is the gateway to the Los Padres National Forest. Since its inception it has drawn people from all walks of life, from those who came for its restorative powers, to artists, farmers, spiritual teachers, small business owners, young families, retirees and those who simply prefer a quieter way of life in an exquisite, natural setting.

The socially-conscious, close-knit and eclectic community of Ojai offers something for everyone. Film and music festivals, art galleries, live theater, weekly farmers market, great restaurants, beautiful shops, and for the outdoor enthusiast: biking, hiking, boating, fishing, riding and championship golf courses. For the spiritually-inclined, all faiths are represented including those traditions based in yoga, meditation and self-inquiry. Ojai has distinguished public schools and is home to some of the finest private schools in the world, attracting boarding and day students, who eventually gain admission to top American universities.

If one moment in the life of a town could express all things it would be, for Ojai, the "Pink Moment." Once a day, just after the sun sets, a good portion of the populace looks to the east to see the mountains awash in the most amazing hues of pink and orange. For that moment we stop, reflect and are reminded why we love it here.

HELPFUL LINKS
Accommodations


Design and Architecture


Area Resources
Local Schools
Community


Arts


Spirituality