About Santa Barbara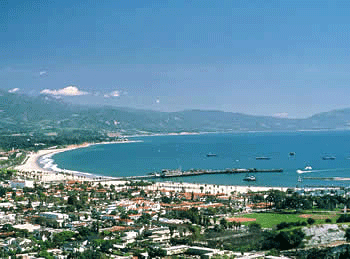 Santa Barbara, sometimes referred to as the "American Riviera," has long been a world-class destination for those seeking to enjoy the best that life has to offer.
In addition to being a popular tourist and resort destination, the city economy includes a large service sector, education, technology, health care, finance, agriculture, manufacturing, and local government. Education is well-represented, with five institutions of higher learning on the south coast.

Santa Barbara contains numerous performing art venues, including the 2,000 seat Arlington Theater the largest indoor performance venue in Santa Barbara and the Santa Barbara Bowl, a 4,562 seat amphitheatre used for outdoor concerts, nestled in a picturesque canyon northwest of Santa Barbara at the base of the Riviera. Considered a haven for classical music lovers, Santa Barbara boasts their own symphony orchestra and many non-profit classical music groups.

The architectural image of Santa Barbara is the Spanish Colonial Revival style of architecture adopted by city leaders after the 1925 earthquake destroyed much of the downtown commercial district. The residential architecture of Santa Barbara is predominantly California bungalows built in the early decades of the 20th century, with many Victorian homes adorning the "Upper East" and Spanish style homes designed by well known California architects in Santa Barbara and on estates in Montecito and Hope Ranch.